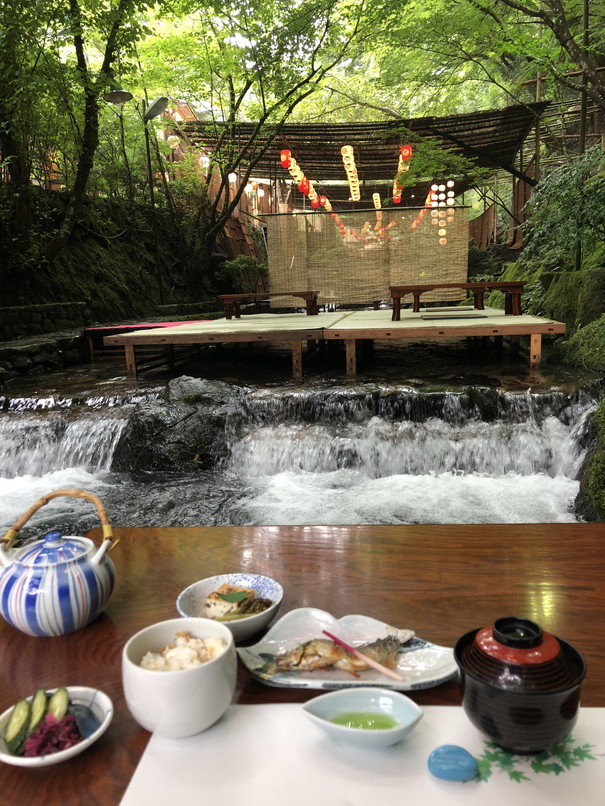 Kifune shrine and river restaurants (and the way to Kurama temple)
Kifune shrine isn't really a B class spot but it is located in the outskirt of Kyoto and not really a well known shrine, so I post the article here.
Omikuji (fortune telling slip) is also fun. You soak it in water and wait 10 seconds and a text appears. But it's written in Japanese…do not worry, IT tips are embedded in this Omikuji and you can get a translation on your smartphone.
The most awesome thing here is special type restaurants called Kawadoko. Usually this term means the river bed, but here it doesn't mean the bed but the terrace or the floor stretching over the river. So, you can feel cool and fresh air over the river to have lunch. These restaurants are opened in Summer time. I chose River fish menu, the cheapest one.
Later on, you may climb up a mountain to visit Kurama shrine…the sign tells the distance between the main pavilion of Kurama temple and the entrance of the mountain located near Kifune shrine…is less than 1500 m. But to tell you the truth, it takes 1 hour to get there. Besides, it's really not easy to find the right way. So, I recommend you to ask the tour guide to take you there if you also want to visit Kurama temple.
(by SuperYossy)
To see the high definition pictures, please click the link below.